Support small businesses! I make fresh, custom and ready-to-ship bath & body products and wax melts. Check out my scent list for over 300 fragrances, or contact me for a custom blend.
WHERE'S MY SCENT? If you don't see a scent you've ordered from me before, it may still be available as a Special Request Scent. Click here for more info.
Subscribe to my newsletter for sale codes and info about giveaways.
To search fragrances, use the search box on the main fragrance page.
Check out my new WAX GALLERY to see pics of wax projects I've made.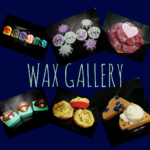 The LINDY'S BAKE SHOP COLLECTION is a bakery extravaganza! The pink overpour is a blend of Danish Butter Cookies and Brown Sugar Pound Cake, and here's the list of all the chunk scents that are in every melt:

Brown Sugar Pecan
White Chocolate Caramel
Almond Rum Cake
Gingercakes
Toasted Almond Torte
Sugared Shortbread
Banana Caramel Cupcake
Pecan Pie

These smell AMAZING and weigh about 3 ounces each and measure 2x2x2. Sold individually.

Details
ForYourNose Loot Boxes are here!

The intro box theme is Fresh, Clean & Herbal

Introducing ForYourNose Loot Boxes, filled with a bunch of goodies! Each Loot Box release will contain a variety of handcrafted FYN items, and some extra surprises as well. This very first Loot Box will include:

Bath & body samples
A specialty item not available on the web site
Glycerin soap
Foaming Bath Salts (a Loot Box exclusive)
Wax melts
Jewelry
A $5 or $10 coupon to use for your next order

Total value is $30-$40

INTRO PRICE IS JUST $20 + SHIPPING

A LIMITED NUMBER OF THESE ARE IN STOCK AND READY TO SHIP

Details
I kept my Winter 2017 Wax Melt Samplers fairly simple this year because I wanted to focus on the fragrances and give you not only the perfect-sized melts to pop right in your warmer, but also the most for your money. In this sampler you'll get a total of 10 holiday scents, including several unique FYN house blends. These are in stock and ready to ship.

The scents in Sampler #2:

Frankincense Sandalwood – Earthy, incense, woody & rose
Victorian Pine – a sophisticated blend of pine, gently mulled fruits, green holly, warm cinnamon leaf, fir needle and cypress with a rounded base of musky dry down.
Hippy Christmas – Patchouli fans will dig this groovy blend of patchouli, sandalwood and peppermint, rounded out with hints of berries and vanilla. Even if you don't usually like patchouli, you may like this one. 🙂
Winter Wonderland – top notes of apples and pears; followed by middle notes of eucalyptus, pine, and geranium; and balanced with base notes of vanilla, cedarwood, and patchouli. Very pleasing and homey, without being too heavy on fruity, spicy or pine notes like some other winter blends.
Sugared Spruce – a whimsical mix of Blue Spruce, earthy moss, robust cedar and balsam, balanced by vanilla, caramel butter, and hints of berries, spice and sugar crystals.
Cranberry Cider – Juicy cranberry salsa and spicy, mulled apple cider.
Pomegranate Champagne – This starts with a sparkling citrus blend of grapefruit, lemon & orange, then adds a twist of fresh pomegranate and a little touch of green to keep it bright. You can almost smell the bubbles!
Peppermint Fluff – a new take on mint: A sophisticated blend of fresh essential oil of peppermint and huckleberries, hints of violet and white florals, with creamy base notes of vanilla marshmallow
Apple Jack & Peel – refreshing yet warm and cozy at the same time. The crisp, tart goodness of apples is paired with a zingy tang of orange peel, and topped off with just the right amount of cinnamon, nutmeg and clove to enhance but not overwhelm the fragrance.
Christmas Cabin – A blend of bayberries and cranberries with a top note of freshly crushed cinnamon bark with hints of orange zests

Some of these scents are on my regular (custom) scent list, some are limited to this sampler. I use a para-soy wax blend and all wax is bagged in wax-friendly polypropylene.

TOTAL WAX WEIGHT IS ABOUT 7 OUNCES. 🙂

Details
Come find us on Facebook for news & giveaways!