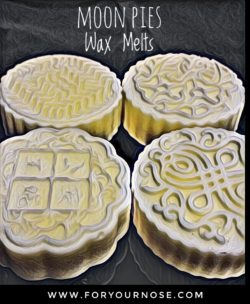 Moon Pies Wax Melts – Fruit Salad Explosion (RTS)
Fruit Salad Explosion is a ForYourNose house blend of strawberry, orange, apple, grape, coconut and banana. Sweet, a little bit creamy, fruity and a fantastic throw. They're sold in packs of 2 and weigh a total of about 2.5 ounces. Ready-to-ship.
About the product pic: I like to take actual pics of the products I'm selling, but my camera wasn't doing justice to the design of these melts so I've obviously enhanced it, including the color.
You may also like…
Cute little waffle-shaped wax melts are here! Choose up to 2 scents. No glitter in these.

Now available in 2 sizes! Four ounces (about 15 mini waffles) will be packaged in polypropylene bags, 8 ounces (about 30 mini waffles) will be packaged in a tin tie bakery bag.

Please let me know if you want your scent choices BLENDED OR SEPARATE. Create-A-Blend lets you choose up to two scents to design your own custom blend. If you prefer, you can also choose a single scent for the whole batch with no mixing by choosing the same scent for Scents 1 & 2.

Details