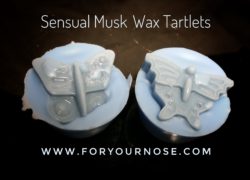 Chunk Wax Tartlet- Sensual Musk (RTS)
Chunk Wax Tartlets that are just the right size to drop in your melter*. Sensual Musk is a seductive, powdery blend of violet, fresh jasmine, musk, blackberries, vanilla, and just a hint of fresh green top notes. Two melts per package for a total of about 2 ounces.
*Most melters; if yours has a smaller dish you'll want to cut it into smaller pieces.
You may also like…
Cute little para-soy wax cupcakes made to order! Create your own custom blends; one scent for the top and another for the bottom, or go with all the same scent. Choose from over 250 fragrances.

To order, choose a BASE SCENT for the bottom, and then SCENT 2 for the whipped wax top.

Available in two sizes:

3 Cupcakes (4 oz total)
6 Cupcakes (8 oz total)

New glitter options! Now you can choose whether or not you want glitter on your custom wax melts. Choose glitter, no glitter, or mica, which adds a fine shimmer.

Details